Board Meeting on First Friday of month, 6-8 pm, The Writers Place, 3607 Pennsylvania, KCMO. Please check the events in case we have a special date or location change.

Sharon Eiker
JSA Founder and Board President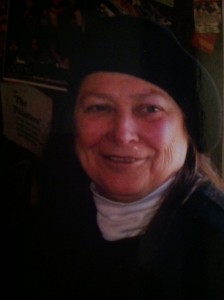 Sharon Eiker, founder of the Jump Start Art Foundation, is an Artist, Poet, Singer, and Songwriter. While Sharon loves creating Art her passion is creating space for our community to share their Art with each other. Building an Arts Foundation to assist emerging Artists by connecting them with the many resources available in the Kansas City Area, will be a real joy to participate in for the years to come. To hear a demo by a new songwriter, read a first chap book, view a first showing of a visual artist, attend a first dance recital, teach a poetry class or a drawing class, or view a newly written never been seen play, are some of the things Sharon is looking forward to as a member of the Jump Start Art Foundation. Sharon was part of The Writer's Place while it was still an idea and a dream among several Kansas City poets. She served on its board for more than 20 years and continues to host its monthly open mic. She also hosts the Uptown Arts Bar Blue Monday open mic.
Waco Porter
JSA VP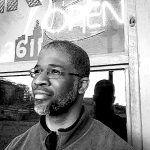 Waco Porter was born in Galveston, TX in 1974 and raised by the Marines. He met his wife in 1996 and has not looked back. She and his daughters have reinvigorated his pen and have been the backbone of his writing. They are the anchor for his wandering mind. Waco uses poetry to get a clear image of what he sees. When he is not writing, Waco likes to swim, bike, run, and ride around the city looking for pancakes. Thoughts on life? In his own words: youngest of four, only boy, daddy's son, mama's joy.
Joe Schebelen
JSA Secretary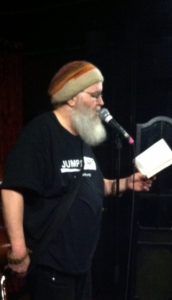 Joseph Schnebelen, alias Moe Shinola, is a musician and recording artist living in Kansas City, MO.
Joe has released one album of original music, Radio Caroline (moeshinola.bandcamp.com). Joe performs regularly with Potlickers Possum Run, an old-timey folk music band which is the official band of the Westport Historical Society and Occupy Kansas City, as well as being in One Deep Breath, a songwriting collaboration. Joe also co-hosts The Mind Keep, a podcast exploring culture, science and current events.
Rebekah Vandergriff
JSA Treasurer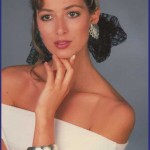 Rebekah Vandergriff, LMSW is the author of "What Day Is It?" A Family's Journey Through Traumatic Brain Injury. Rebekah is employed as a Part-time Cognitive Therapist assisting traumatic brain injury survivor's who live in the community. She advocates for the disabled population using art in any form to express themselves, create a calm environment, while promoting care for our Planet. When she isn't working as a therapist, she is caring for her three daughters Gabrielle 20, Camille 13, and Olivia Josette 11. She and her husband live in Prairie Village, KS, and are strong supporters of the Arts in the Greater Kansas City area.
Christina Hentzen
Dance Advisor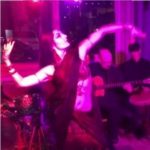 Christina Ali is a professional dancer and dance instructor. She has been an organizer for Troost Fest for several years. Christina and her band have donated time and talent to Jump Start Art's New Years Celebration at the Writer's Place in the past.
Rhiannon Ross
Member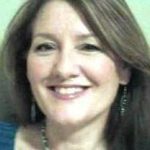 Rhiannon Ross is an award-winning journalist, freelance writer, poet and editor. She works with youth as an ELA tutor, substitute teacher, and teaching artist for In Our Own Words – a Missouri Arts Council-funded poetry program in urban schools. She serves on the Riverfront Reading Series committee and as co-coordinator for the Poetry Out Loud Kansas City South Region. She is a member of the writing groups The Collaborators, and The Diversifiers, Kansas City's oldest women's poetry collective. Rhiannon is committed to empowering young people to express themselves through the arts, especially the literary arts. She organizes Jump Start Art KC's free, summer youth poetry workshops, and serves as one of its instructors.
Claire Verbeck
Member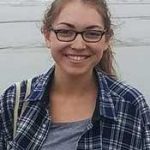 Claire Verbeck is a poet, writer, and comedian from rural Platte County, Missouri. She attended Wellesley College, where she published her first book of poetry and began performing improv comedy. After graduating, she returned to Kansas City and found herself at one of Jump Start Art's numerous open mics. She was instantly enamored of the vibrant and supportive local arts community. Claire is a firm believer in the power of art to bridge differences, challenge preconceptions, and empower the disenfranchised. As the Membership Chair of Jump Start Art, she is eager to explore new ways to share those values with others. In her spare time, she volunteers for New Letters On The Air, an internationally-syndicated audio literature program.
Richard Eiker
Member, Youth Advisor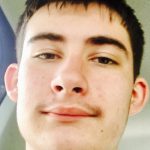 Richard Eiker, poet and visual artist, is a junior at Oak Park High school. He has preformed his poetry
at many venues around town. His input to Jump Start Art is invaluable in keeping the board up to date with trends in the youth culture.
Tabatha Washington
Member, Youth Advisor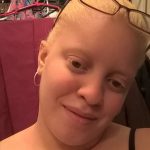 Tabatha Washington, an award winning poet, is in addition our youth advisor on the JSA board and volunteers to teach poetry classes.
Rae Petersen
Member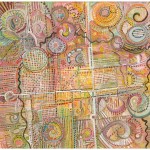 Rae Petersen, whose earliest school memory is of painting at an easel in her one-room country school, has taught K-12 art in Michigan and Missouri. She owns several looms and spinning wheels (and will get back to those when time and space allow) and paints as meditation/active imagination in self exploration. Rae is active in community having worked on the World Peace Celebration in Kansas City from 1987 thru 2000, is one of the founders of the Troost Ave. Festival, as well as restoring her 1906 home in the Old Hyde Park midtown neighborhood. Rae, and Fred Culver, publish and market The Creative Process' Global PathMarkers posters, notecards and bookmarks. She also consults with small not-for-profits and businesses for a presence on the web.